ENGLISH
History of Tomiyasu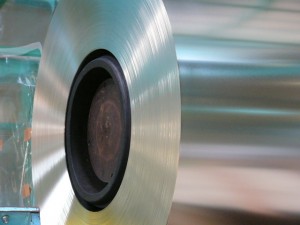 Thehistory of Tomiyasu dates back to 1919, when it was founded in Osaka as a company specializing in the tinplate (light steel sheets coated with tin) business.  Based on the steady expansion of its tinplate business, the company has built broad customer confidence over the years, evolving into a highly reputable company as reflected in their label "Tomiyasu, an industry leader in tinplates".
Drawing on its strong business track record, Tomiyasu has vigorously diversified its business domain into the supply of various types of metal products and materials, including steel sheets, steel pipes and tubes, and has expanded its range into construction and civil engineering work materials, growing into the "specialized steel trading company" it is today with distribution covering the entire world.
The metals and materials handled by Tomiyasu serve as a base for various types of containers, including food cans, automobile and electrical home appliance parts, as well as for products used in construction and civil engineering works.  And, being indispensable to daily living, they provide stable demand less affected by economic trends.
 Tomiyasu, in partnership with its metal printing and processing group companies, aims to build a highly efficient logistics system, that enables the timely and optimum supply of metals and materials that will serve to cut its manufacturing customers' costs and improve their productivity.
Plan and Produce……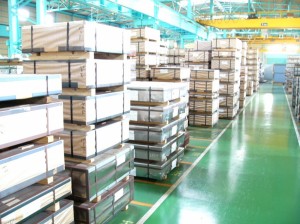 Tomiyasu's fame as an "industry leader in tinplates" is attributable to the company's ambitious efforts, since its founding, in ensuring consistent service that provides quick response to all customers' needs, not only in its sales of tinplates, but also in the areas of processing and metal printing.
 In addition, Tomiyasu is drawing on its long established experience and knowhow as a specialized metal trader and supplier, and tapping the extensive amount of information exchanged with the experienced and reliable metal product manufacturers to forge ahead with the development of unique and high-value-added metal products and materials, leading to new business opportunities as well as the ability to generate new business on a proposal-oriented basis.
 Areas holding promise for the future include the development of such new intermediate materials as heat-resistant titanium alloys and such processed products as specially deformed tube, as well as handling secondary steel products and providing materials for housing and housing-related equipment to the construction and engineering work materials field, which is a derivative of the steel distribution business.
 Even if it is jut niche market products, Tomiyasu is firmly committed to finding the products and materials that best fit its customers' needs, and offer support and advice on how to best utilize these items to optimize their business.
Overseas Business….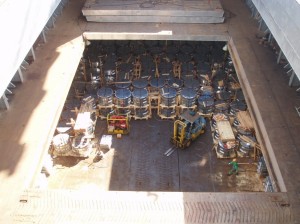 Tomiyasu, as a tinplate trading company, has long been focused on rising demand for tinplate in Southeast Asian markets, and started exporting tinplate there as far back as the late 1960s.  In addition, the company has been actively cultivating close partnerships with local can manufacturers in Asian countries through technical assistance, including metal printing training for employees from those manufacturers.
 In 1992, the company made an equity participation in a Japanese-owned tinplate manufacturing company in Thailand, where Tomiyasu aims to expand its tinplate business by not only supplying various steel materials to local customers, but also through the transfer of the technical knowhow of its group metal printing and can making business.
Group Network and Business Relations…
 The list of  Tomiyasu's group companies includes such manufacturing companies as "Tomiyasu Metal Printing Co., Ltd.", a leading Japanese metal printing processor.  It epitomizes the company's unique stance to not only provide its customers with its conventional material "supply and sales" services, but also to provide them with printed and processed "products or goods ", to better serve their needs. The location of these domestic group companies extends throughout Japan; they can be found in the Hokkaido, Kanto, Tokai, Kansai, Chugoku and Kyushu regions, and each of them functions as logistics centers, efficiently supplying the optimum materials to customers everywhere.
 In addition, Tomiyasu and its group companies, through the combined power of information links and business tie-ups, stand ready to act as a catalyst in flexible support of any type of customer production scheme or product commercialization plan on a nationwide basis.
Contact